Radio Delivers Engaged Consumers Over July 4th Weekend
NEW KATZ SURVEY TRACKS CONSUMER ACTIVITIES AND AUDIO CONSUMPTION
The 4th of July is one of the more audio-heavy holidays, with the sounds of fireworks heard by 9 out of every 10 people across the country - possibly as ubiquitous and synonymous to the day as the sight of the American flag. A new post-July 4th survey from Katz Media explores other holiday weekend audio findings, including how AM/FM radio is the platform of choice to reach active and engaged consumers.
7 IN 10 LISTENED TO AM/FM RADIO IN-CAR OVER JULY 4TH WEEKEND
Katz conducted a survey of over 1,000 people across the U.S. in the days after July 4th to find out about their holiday weekend activities. 80% of respondents reported using a car over the July 4th weekend, and 95% listened to audio while doing so. Radio was by far the leading audio choice, with 7 in 10 tuning in to AM/FM (over-the-air, or via station streams/apps), ahead of pureplay streaming services (26%), satellite radio (25%), and podcasts (12%). AM/FM radio marks advertisers' best bet to connect with holiday weekend revelers in the car.
Click gray circle to enlarge chart.
RADIO LISTENERS ARE ACTIVE AND ENGAGED CONSUMERS
Radio consumers used their cars to engage in a variety of activities over the holiday weekend, including going to BBQs (49%), fireworks shows (33%), the beach (30%), and getting away for day trips or vacations (16%). Listeners also reported taking part in consumer activities, including shopping holiday sales online (16%) and in-store (11%), going to bars or restaurants (31%), and going to the movies (9%). AM/FM radio continues to be the best bet for businesses looking to reach active and engaged consumers over holiday weekends.
Click gray circle to enlarge.
---
Radio Powers the Audio Landscape
TOTAL AUDIO SERVES UP NEAR-TOTAL REACH
The new Nielsen Audio Today 2022 report paints a robust picture of the powerful audio landscape. Nielsen finds that total audio, inclusive of AM/FM radio, streaming music services, satellite radio, and podcasts, garners nearly universal monthly reach across all major age brackets. Marketers that embrace audio and choose to include traditional and digital options in their audio marketing plans have the chance to engage 99% of consumers across generations, more than all other media measured by Nielsen.
Click gray circle to enlarge chart.
TOTAL AUDIO AUDIENCE DRIVEN BY AM/FM RADIO
The vast majority of total audio's reach comes from the AM/FM radio audience. With levels spanning 87%-99% among the major demographic breaks, including among Black Americans and Hispanics, AM/FM radio is the only audio platform that can deliver the scale advertisers need. Marketers that include radio in their audio mix can generate +55% more incremental reach on top of their digital and other audio buys.
Click gray circle to enlarge chart.
AUDIO LISTENERS ARE KEY PLAYERS IN LOCAL ECONOMIES
Nielsen finds that audio listeners are more likely to have major purchases on the horizon than the average adult, making them important players in their local economies. Radio listeners are +6% more likely to book air travel and +4% more likely to buy a major appliance in the next 12 months, while podcast listeners are +12% more likely to purchase a home entertainment system, and +8% more likely to purchase financial products than the average adult.
Chart is interactive; click gray circle to enlarge.
In the evolving media landscape, audio's diverse offerings are truly capturing consumers' time and attention, with AM/FM at the core. Radio listeners contribute significantly to the total audio audience size, as well as to economic activity, making it imperative for advertisers to include radio in their audio mix.
---
The Katz Local Vote: Your Guide to the 2022 Midterm Cycle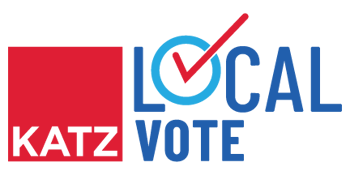 There are 4 months (and 20 state primaries) between now and the general election. As the cycle continues to heat up, let Katz be your go-to for information with the Local Vote Interactive Guide. Whether you are navigating the political landscape for political or brand advertising, you'll be able to use our guide to easily engage with these helpful insights:
Political windows
Governor, Senate, and U.S. House of Representatives races
State political leanings
Voter media usage by state, market, and party affiliation
And more to come!
See below for a quick preview of the Local Vote Interactive Guide, including the main menu, voter timeline, and a sample of data for the state of Maryland, where citizens are gearing up to vote in their primary in the next two weeks.
Click gray circle to enlarge.
Go to the Katz Local Vote Interactive Guide.