Radio Maximizes Audio Messaging Opportunities for Brands
RADIO IS TOPS IN AD-SUPPORTED AUDIO LISTENING ACROSS LOCATIONS
According to a Hubbard Radio analysis of Edison Research's Share of Ear data for Q2'22, radio captures the majority of ad-supported audio listening across locations. Radio connects brands with attentive and captive audiences in the car, the home, and at work.
RADIO DOMINATES THE CAR
When it comes to reaching consumers in the car, on-the-go, and close to the point of purchase, radio dominates. AM/FM radio commands 9 out of every 10 minutes spent with ad-supported audio in the car, 10x as much listening as streaming and podcasts combined. By utilizing AM/FM radio (OTA or streaming), brands are maximizing the "last mile" opportunities to reach consumers where and when messaging is most relevant and actionable.
Chart is interactive; click gray circle to enlarge.
THINKING OUTSIDE THE CAR - RADIO DELIVERS AUDIO MESSAGING AT HOME & WORK
Radio also captures the majority of at-home and at-work listening occasions. 6 out of every 10 minutes spent with ad-supported audio at home and at work are to AM/FM radio. Brands have ample opportunity with AM/FM radio to reach consumers in a variety of different mindsets and activities - as they relax, check emails, do household chores, order dinner, shop online - countless moments for relevant and meaningful brand connections.
Chart is interactive; click gray circle to enlarge.
---
Time Well Spent With AM/FM Radio
AM/FM RADIO RESONATES WITH SATELLITE RADIO LISTENERS
Audio industry insiders can recite facts from AM/FM radio's long and distinguished resume to show that time with radio is time well spent. But what do the listeners have to say about it? Katz Radio Group reached out to satellite radio consumers across the U.S. to find out just what their relationship is with AM/FM radio, to gauge if it's really worth their time.
Katz found that 74% of weekly satellite radio listeners, an overwhelming majority, also tune in to AM/FM stations on a weekly basis. And for daily usage, satellite consumers are as likely to listen to AM/FM every day (34%) as satellite radio itself (38%). And satellite consumers listen to AM/FM radio both in and out of the home - in the car (78%), on a traditional radio (49%), and on computers, smartphones (34%), and smart speakers (20%).
SATELLITE RADIO LISTENERS HAVE MEANINGFUL ENGAGEMENT WITH AM/FM
The majority of daily satellite radio listeners are not just casual listeners of AM/FM. 67% report having a favorite station. And they have a wide array of AM/FM favorites - The Wave, Power, The FAN, The Wolf, Star, The Bull, Cat Country, and Majic, to name a few cited by respondents. Satellite consumers' relationships to AM/FM stations are long term commitments as well - they have been listening to their favorite AM/FM station for an average of 15 years. The relationship runs deep as well, as 8 in 10 state that they would truly miss their station if it were gone.
Click gray circle to enlarge.
---
It Bears Repeating - Audio Ad Engagement Rises With Frequency
The question of optimal ad frequency - finding the Goldilocks ratio that ensures ad effectiveness and avoids wear out - has been a lingering one in the audio industry. Brands want to make sure their spots are heard often enough to resonate, while not too often to turn off potential customers. A new Audio Amplification report from Audacy, with Spark Foundry and Alter Agents, taps into the power of neuroscience to tackle this very issue.
Along with some more probing questions about brand opinion and purchase intent, the study included a biometric Immersion test, tracking variations in heart rate to measure the emotional response to ads served across audio content (OTA radio, streaming, and podcasts) over a seven day period. The Immersion factor is defined as attention and emotional connection and is an indicator of future consumer action.
AUDIO ADS SHOW NO SIGN OF EROSION DUE TO INCREASED FREQUENCY
Audacy uncovered a welcome finding - that any worries over ad fatigue and wear out are unfounded. Audio ads actually gain effectiveness over time, showing no signs of decay in attention, brand opinion, and purchase intent. Audio campaigns provide tremendous impact up and down the purchase funnel, even after as many as 15 exposures over a 7 day period.
Charts are interactive; click gray circle to enlarge.
For more information from Audacy.
---
The Katz Local Vote: Your Guide to the 2022 Midterm Cycle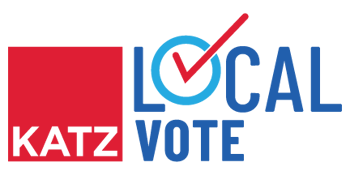 There are less than 4 months between now and the general election. As the cycle continues to heat up, let Katz be your go-to for information with the Local Vote Interactive Guide. Whether you are navigating the political landscape for political or brand advertising, you'll be able to use our guide to easily engage with these helpful insights:
Political windows
Governor, Senate, and U.S. House of Representatives races
State political leanings
Voter media usage by state, market, and party affiliation
And more to come!
See below for a quick preview of the Local Vote Interactive Guide, including the main menu, voter timeline, and a sample of data for the state of Maryland, where citizens just voted in their primary this week.
Click gray circle to enlarge.
Go to the Katz Local Vote Interactive Guide.