Radio Dominates In-Car Messaging Opportunities
LATEST IN-CAR LISTENING STATS FROM SHARE OF EAR
In the previous issue of Sound Answers, we explored findings from a WorldDAB study on what audio choices car buyers wanted in their vehicles. This week, we delve further into in-car audio consumption with a Hubbard Radio analysis of Edison Research's latest Share of Ear release. According to the new findings from Q1'22, 6 out of every 10 minutes spent listening to audio in a car is to AM/FM Radio (OTA and streams). Radio captures more than 3x the listening time as its nearest competitor, SiriusXM, and upwards of 5x more than streaming audio and podcasts.
Narrowed down to the audio sources most relevant to brands - those that are ad-supported - radio's share of listening jumps to 92%. Commanding 23x more in-car listening time than both audio streams and podcasts, radio truly dominates these messaging opportunities for brands. By choosing to advertise on AM/FM Radio, both OTA and its streams, marketers are maximizing their engagement with the valuable, attentive, in-car consumer segment. Radio connects brands with consumers on-the-go, close to the point of purchase - where and when messaging can be most effective.
Chart is interactive; click gray circle ton enlarge.
---
Radio Masters Local Consumer Connections
NEW FINDINGS FROM JACOBS MEDIA TECHSURVEY 2022
Jacobs Media's recent Techsurvey 2022 reveals new insights into radio fans' perceptions about radio during the current "Return to Normal" era. Even during this time of evolving media consumption behaviors, one sentiment remains strong among radio fans: their value of radio's local and personal consumer connections. Smart marketers stand to benefit from these connections as they strive to engage with consumers in today's media landscape.
RADIO DELIVERS CONNECTION
Half of radio listeners say a main reason they tune in to radio is their feeling of connection with it (51%). When asked about their favorite station in particular, three in four listeners report really feeling connected to it. And among those listeners, roughly half (37% out of 76%) "strongly agree" with the statement, truly embracing that connection. These fans who feel strongly connected with their favorite station increased +28% during the pandemic, and have remained at that high level in 2022. This heightened connection is felt across generations, especially the younger listeners.
Click to enlarge chart.
LISTENERS ARE DRAWN BY CONNECTIONS WITH PERSONALITIES
A major driver of this listener connection is radio's on-air talent. This year, 62% of radio listeners say they tune in for the DJs, hosts, and shows, an +11% increase over the past 5 years. Personalities have been on an upward trend since 2017 - surpassing music/artists in 2019, and continuing to rise. And listeners strongly value their DJs across a variety of formats, with CHR, Rhythmic Urban, Sports, Hot AC, Urban AC, and Rock stations leading the pack.
Click gray circle to enlarge chart.
LOCAL TRULY MATTERS
Radio stations are designed to connect with consumers locally - in the communities where they live. 87% of listeners believe that this local quality is one of radio's biggest assets, and half (49%) strongly believe so. That number is on par with last year, which has grown +14% over the past 5 years.
Click gray circle to enlarge chart.
Marketers looking to best engage with consumers would be smart to tap into radio's power of connection. By partnering with local radio stations and on-air personalities, brands can establish a meaningful presence in communities and authentic connections with consumers.
For more information from Jacobs Media.
---
The Katz Local Vote Helps Radio Get its Share of Political Dollars
YOUR GUIDE TO POLITICAL INFO AND LOCAL MEDIA INSIGHTS
After a record breaking 2020 cycle, political spending is still going strong. Ad Age reports that spending has already passed the $5 billion mark, with over 5 months to go and political windows yet to open in 20 states.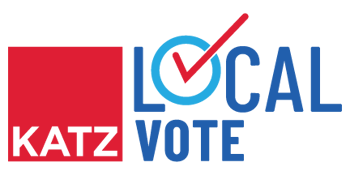 As this lucrative political cycle progresses, it is Katz's goal to promote local radio as a powerful asset for any political campaign. That is why Katz has re-launched the Local Vote initiative, an interactive guide designed to help campaigns make informed media decisions and establish meaningful connections with voters throughout the country.
With state and market-level data on voter affiliation, behaviors, media usage, and format preference, the Local Vote is full of insights to educate campaigns on the power of AM/FM Radio to engage local voters. See below for a quick preview of the Local Vote Interactive Guide, including the main menu, voter timeline, and a sample of data for the state of Georgia, where citizens are gearing up to vote in their primary next week.
Click gray circle to enlarge.
Click to launch the Katz Local Vote Interactive Guide.