Radio is the Soundtrack of the Great American Summer Road Trip
NEW KATZ SURVEY TRACKS CONSUMER BEHAVIOR ON EXTENDED ROAD TRIPS
The automobile was in heavy use this summer as people packed up and headed out on road trips. A new Katz Radio Group survey found that half the country (49%) took at least one extended road trip this summer, involving overnight stays at their destinations. These extended road trips lasted an average of 5 days. Unimpeded by gas prices, road trippers embarked on an average of 2 trips this summer, and 74% traveled outside of their home state to do so.
THE JOURNEY IS PART OF THE FUN - AND AUDIO IS THE SOUNDTRACK
Summer road trips have been a yearly tradition for 7 in 10 road trippers. And whether they were ultimately headed to stay at the beach, explore a new city, visit a national park or just see family and friends, 81% of road trippers believe the journey is part of the fun. Feeding into that amusement is what's playing over the speakers, as nearly every road tripper reported listening to and enjoying audio while traveling. By far, AM/FM radio (OTA and station streams) garnered the most listening, with two-thirds, +89% ahead of its nearest competitor, pureplay audio streaming, and double satellite radio.
Click gray circle to enlarge chart.
CO-LISTENING OCCASIONS IN THE CAR
Listening to audio is a group activity on road trips, as only 1 in 10 road trippers reported driving alone. 88% of road trippers listened to audio through the car's speakers, as opposed to headphones or earbuds. And while one-third said the driver decided what the car listened to, 56% agreed that everyone in the car had a say.
LISTENERS GO LOCAL
Since the majority of extended road trippers traveled out of state on their trips, it means they also left their home markets and familiar AM/FM presets of daily life. Listeners were able to access their favorite stations, wherever they may be, through streaming, but AM/FM listening didn't stop there. Three-quarters of road trippers reported being open to checking out the local radio stations while they're away.
---
The Business Owner Audio Landscape
KATZ ANALYSIS OF MRI-SIMMONS DATA
As the B2B vertical continues to grow for radio, it is evident that advertisers are becoming more confident in radio's ability to deliver ideal business targets. But just who are these targets? Katz digs into MRI-Simmons data to explore the who, what, where, and why of the business owner's audio landscape.
WHO ARE BUSINESS OWNERS?
For this analysis, business owners are defined as owners/partners, presidents, CEOs and general managers. The majority of business owners have small businesses; three-quarters run companies that have less than 100 employees. The companies they run perform varied services, such as business, industrial, construction, medical, personal, retail, and agriculture, among many others.
Business owners are younger than one may think - there are more Millennials running a business than GenXers or Boomers. 36% of business owners are Millennials, +7 points ahead of Baby Boomers. GenXers come in close behind at 27%. The generations at the youngest and oldest ends make up the smallest shares of business owners - Gen Z (4%) and Pre-Boomers (3%).
Click gray circle to enlarge chart.
WHAT TYPE OF AUDIO DO THEY LISTEN TO?
Business owners are big fans of audio, with 7 in 10 listening to AM/FM radio (72%) and audio streaming services (74%), which include services that stream AM/FM content, such as Audacy and iHeartRadio, as well as pureplays. As 59% of business owner households subscribe to audio streaming services, a good portion of that listening is likely to be commercial-free. Therefore AM/FM radio remains the best way for brands to connect with business owners as it dominates audio ad opportunities.
Click gray circle to enlarge chart.
WHERE CAN BRANDS FIND THEM?
Location-wise, business owners are likely to be found consuming radio in their cars, at work, and at home. On a typical weekday, 81% of business owners listen to radio in their cars. Business owners are much more likely than the average American to listen to the radio at work both on a weekday (+66%), and on weekends (+96%). Dial-position-wise, business owners can be found listening across all formats. From News/Talk/Sports to every music format, business owners are tuned in.
WHY DO THEY LISTEN TO RADIO?
Radio acts as a jack of all trades for business owners. It is a source of entertainment, information, and escape - improving their mood, relaxing them, and making them think. 1 in 3 business owners say that radio is a good source of learning, and the ads provide them with useful information on new products and services.
Click gray circle to enlarge chart.
---
Retail Sales Momentum Up in August and Into Holidays
MASTERCARD SPENDINGPULSE: U.S. RETAIL SALES UP +11.7% OVER LAST AUGUST
New data from Mastercard SpendingPulse reports another month of double-digit growth in August, based on in-store and online retail sales across all payment types. Total retail sales (excluding automotive) grew +11.7% from August 2021 and +20.4% over pre-pandemic August 2019. In-store sales increased +12.3% over last year and +11.1% over 2019, while ecommerce grew +8.9% and +100.2% for those same time periods. Sector performance varied, but reflected increased demand for experiences, including travel and dining, as well as updating wardrobes with new apparel and jewelry.
Click gray circle to enlarge chart.
HOLIDAY SEASON RETAIL SALES TO GROW +7.1% OVER LAST YEAR
After a lucrative 2021 Holiday Season, 2022 is shaping up to be a positive one as well, up +7.1% over last year. The holiday shopping season will once again be longer, with consumers heading out as early as October for deals. In-store is forecast to grow +7.9% as retailers drive consumers into locations with exciting sales and events. And like August, apparel and jewelry are expected to be stand out sectors for the holiday season.
Click gray circle to enlarge chart.
For more information from Mastercard.
---
Helping Radio Get its Share of Political Ad Dollars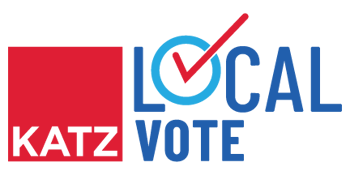 BIA is predicting that political spending on OTA radio will hit $428.4 million by the end of the 2022 midterm cycle. With under 60 days remaining until the general election, demand for political advertising is certainly heating up. Let Katz's Local Vote Interactive Guide help you succeed this midterm election season, whether you are navigating the political landscape for political or brand needs.
MARKET HIGHLIGHT: COLUMBUS, GA
BIA reports that Columbus, GA is being inundated with political spending this year, comprising nearly 20% of its total local ad spend (and over 50% of its local TV spend). See below for a quick preview of the Local Vote Interactive Guide with a sampling of data for Columbus, to see how AM/FM radio is an excellent way to reach Democrat, Republican and Independent voters in this active market. Campaigns would be wise to invest in Urban, Country, and AC stations to target specific party voters in less politically-cluttered ad environments than TV. Want to learn more? Click the link below to access the full guide.
Click gray circle to enlarge.
Go to the Katz Local Vote Interactive Guide.
For more information from BIA.